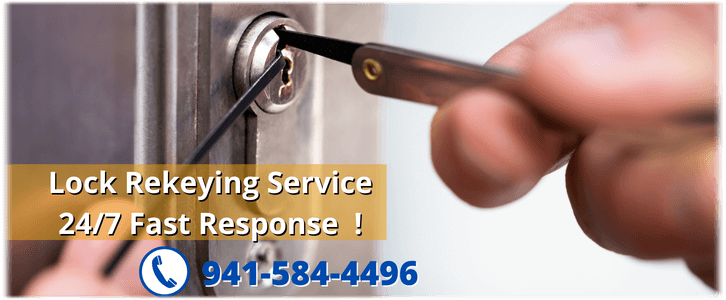 Do you require a lock rekey assistance in Sarasota, FL? Then don't worry, we've got your back! Our team is available 24 hours a day, seven days a week, to provide quick and dependable lock rekey services for your home and business in Sarasota, FL. If you aren't confident and don't feel secure enough with all of your locks, contact us, and we'll send one of our dependable technicians to your location in Sarasota, FL, to rekey all types of locks. Moreover, our experts have the necessary experience and knowledge to rekey your locks. That makes us the perfect choice for this kind of service. So, if you need your locks to rekey, give us a call right away!
Pros of Having Your Locks Rekeyed
Rekeying locks is a less expensive way to improve security than completely replacing the locks. Instead of purchasing new locks, only a few pins need to be replaced. You will be able to keep your locks as well. When we are done, you'll have new keys compatible with your existing locks. If you rekey or change your locks without the proper tools and equipment, you will cause damage to your locks. Instead, dial our number and contact our team to assist you with your lock rekeying needs. So, if you require our lock rekey services in Sarasota, FL, contact us right away at (941) 584-4496! There will be no waiting and worry because we are here for you the whole time.
Unceasing Rekeying of Business and Residential Locks Sarasota, FL!
The urge and the need to rekey locks can occur at any moment. Well, if this happens, have you thought of who to call? Do you who works day in and day out to assist you with a lock rekey in Sarasota, FL? The excellent news is we are here for you and we will not let you down. Our technicians work through the graveyard shift to give you convenience. We do not stop working even on weekends and holidays because it is vital for us to be the first ones to arrive when you demand rekeying support in Sarasota, FL! You are never alone when you have issues with your locks. We have a reserve lock rekey crew for you!
Trustworthy Lock Rekey Experts Near You!
Our purpose is to satisfy our customers while ensuring their safety and security. That is why we strive to do everything in our power to ensure the safety of our clients' families or tenants, as well as to keep you safe from intruders and unauthorized access. Once you call us, we will dispatch a qualified technician to your location whenever and wherever in Sarasota, FL, to resolve the issue. We work with experienced and dependable lock rekey professionals who can provide you with the best rekey service possible. Don't be afraid, and don't expose your home or business to intruders. Instead, rekey your locks today to improve the security of your home. Contact us today to experience our lock rekey experts in Sarasota, FL.